A:


How to Spring Clean Your File Manager and File Sharing Tips



Video Tutorial: How to Delete Files: MP4 or YouTube

Did you know that when you attach a file in FDmail it is saved to your File Manager? Files that are posted in BulletinBoard and in the Links section are also saved to your File Manager.

Because of the unique needs of distance learning, we are experiencing high demand for file space. In order to ensure enough space for all users, we are asking everyone to delete old unused files. If everyone deleted files over 1 year old, then 50% of our file space could be returned to our users. Also, if your file/video is very large (over 25MB) then please utilize dedicated file/video sharing platforms.



How to view and delete uploaded files:





IMPORTANT!

When files are deleted from your File Manager then any FDmail with attachments to that file will not work nor any link posted elsewhere in the system. In other words, deleting uploaded files that are connected to links (such as in Links), will cause the link to no longer work.
Go to your

Homepage

Scroll down and click

File Manager

Click

Order by Age

(found under the Public and Private folder headings)
Check the boxes for any files you want to delete

Click Delete (found in the upper right)


Suggestion for video sharing:
Generally, video files on
Youtube
will provide a better "end user" experience because they are stored in a high bandwidth site.
When uploading a video to Youtube, you can choose
Unlisted
as your
Visibility
setting which will allow anyone with the video link to see your video. So, once it's uploaded with Unlisted as your visibility setting, then you can copy and paste the video link and send it through FastDirect FDmail, post it to your BulletinBoard, and/or post it in Links.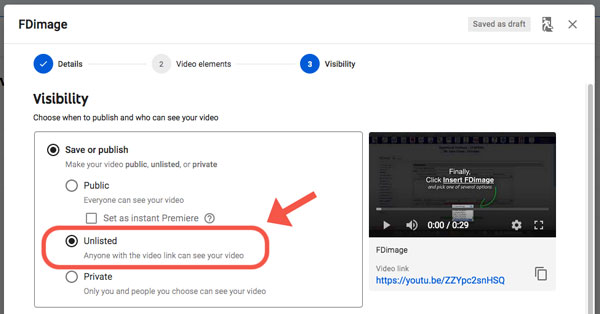 Suggestion for file sharing:
Google Drive
and
OneDrive
(Outlook's tool) are great platforms that are expressly created to store and share files. Other options include Dropbox, WeTransfer, and Media Fire.
By uploading your large files to one of these options and then sharing your link within FastDirect you can get the best of both worlds:
share large files and avoid overloading FastDirect file space!